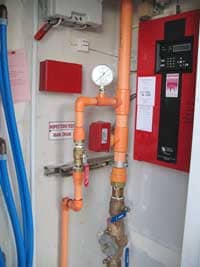 For residential occupancies, a 13R sprinkler system is permitted by the building codes for many applications, and a 13R system offers numerous economic advantages for the building owner. Most notably, with a 13R system, attics and concealed spaces do not have to be protected with sprinklers.
But, be careful! Although the building codes permit a 13R system for residential occupancies, a 13R system is not permitted when a 13 system is used by the Architect for tradeoffs to other code requirements.
Specifically, check with the Architect to ensure that an NFPA 13 system was not used to comply with other building code requirements. Here are two examples where the International Building Code allows tradeoffs for NFPA 13 sprinkler systems:
2012 International Building Code
Table 601 – Fire-Resistance Rating Requirements For Building Elements. Here a 13 system can use in lieu of fire resistance ratings.
Paragraph 504.2 Automatic Sprinkler System Increase. A 13 system can be used to increase the allowable area by 200%.
NFPA 13R sprinkler systems offer many advantages but proceed with caution. Due your due diligence on the front end of a project to make sure you are not double-dipping.
---
For suggestions on future blog posts, make a suggestion.