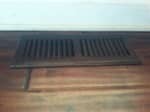 Commercial buildings typically have ceiling diffusers or sidewall grilles, but occasionally there is a need to locate air supplies or returns on the floor of a facility. Floor registers are common in residential applications. Before locating them on the floor a commercial building, a careful review of the applicable codes is imperative.
Building codes typically do not prohibit floor registers in commercial buildings, however, the fire codes can restrict their usage. For example, NFPA 101: Life Safety Code, paragraph 9.2.1 states that "Air-conditioning, heating, ventilating ductwork, and related equipment shall be in accordance with NFPA 90A." NFPA 90A: Standard for the Installation of Air-Conditioning and Ventilating Systems, paragraphs 4.3.7.3.1 and 4.3.8.3.1 state that "Air inlets/outlets shall be located at least 3 inches above the floor, unless provisions have been made to prevent dirt and dust accumulations from entering the system."
For a return inlet, a filter at the floor register will prevent dirt and dust accumulations from entering the system. However, floor returns are usually quite large in comparison to a floor register, and a filter, which is quite visible, is not very attractive.
I do not know of any feasible way to protect a floor supply registers from dirt and dust entering the system. One option is to use a low sidewall supply grilles. If the walls are thick enough and there is access to the walls above the foundation and below the floor, this can work. I don't particularly like low sidewalls in a meeting space. Often the air blows directly on the occupants on the perimeter. People near the walls get hit with cold air, while people in the center of the room are hot.
Lesson Learned: Check the fire codes before using floor registers in commercial buildings!
---
For topics on future blog posts, make a suggestion.