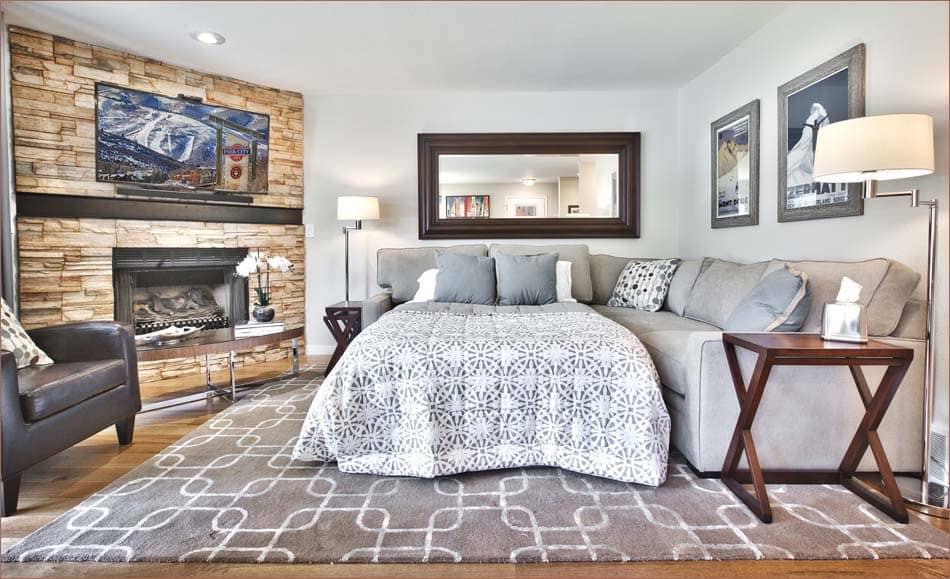 Gas appliances could pose a threat to people when they are sleeping, unaware of any impending danger. The threats include oxygen depletion and elevated levels of nitrous oxide or carbon monoxide. For this reason, the fuel gas codes restrict the use of gas appliances in sleeping rooms.
The 2018 International Fuel Gas Code (IFGC), Section 303 – Appliance Location contains the following criteria.
303.3 Prohibited Locations. Appliances shall not be located in sleeping rooms, bathrooms, toilet rooms, storage closets or surgical rooms, or in a space that opens only into such rooms or spaces, except where the installation complies with one of the following:
There are six exceptions listed for paragraph 303.3. These six exceptions allow gas appliances in these prohibited locations when specific conditions are met. These exceptions are:
Exception #1 allows a direct-vent appliance. 
Exception #2 allows vented room heaters, wall furnaces, vented decorative appliances, vented gas fireplace heaters, and decorative appliances installed in vented solid fuel-burning fireplaces that meet the volume criteria of Section 304.5.
Exception #3 allows unvented room heaters meeting specified criteria in bathrooms.
Exception #4 allows unvented gas appliances meeting the specified criteria.
Exception #5 allows appliances to be installed in adjacent rooms that open to a bedroom or bathroom if these rooms are weather-stripped and have a self-closing door.
Exception #6 allows a clothes dryer to be installed in a bathroom if certain criteria are met. 
Exceptions 1, 2, and 4 apply specifically to sleeping rooms/bedrooms. The intent of these paragraphs is clear. Gas appliances in
sleeping rooms
 are permitted only if the appliances are direct-vent, vented, or unvented if the unvented appliances meet 
all
of the following conditions:
The unvented gas appliance (one) is a wall-mounted room heater.
The unvented, wall-mounted, gas room heater is equipped with an oxygen depletion safety shutoff system, as required by Section 621.6.
The unvented, wall-mounted, gas room heater has an input rating of not more than 10,000 Btu/hr.
The room is large enough to provide adequate combustion air as described in Section 304.5.
Note that the IFGC limits
unvented
gas appliances in a sleeping room to a "wall-mounted" heater. This precludes unvented heaters that stand on the floor, fasten to a fireplace hearth, or are ventless firebox hearths.
These restrictions for gas appliances are typically applied to bedrooms. Notice though the terminology used in Section 303.3 does not restrict gas appliances in bedrooms but in sleeping rooms, which has a broader definition. 
Code officials may interpret the presence of a sleeper sofa in a room as making that room a sleeping room, and I believe rightfully so. Sleeper sofas may be present in condominiums, hotels, apartments, time-shares, and other residential/hospitality occupancies.
 If there are depleted oxygen levels or elevated levels of nitrous oxide or carbon monoxide present, whether someone is sleeping on a bed in a bedroom or on a sleeper sofa bed in some other room, the risks are the same. 
Just be aware that, in jurisdictions where the International Fuel Gas Code is adopted, the presence of a sleeper sofa may mandate compliance with the restrictions for gas appliances in sleeping rooms/bedrooms.
---
For topics on future blog posts, make a suggestion.
Was this article helpful?